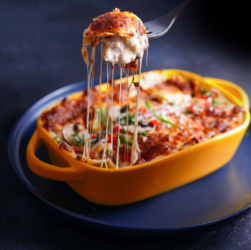 1bag of Cornitos Peri Peri Nachos
Ingredients for White Sauce
2 cup milk
1 tsp butter
2 tsp whole wheat flour
1 tsp sugar
1/2 tsp black pepper powder
1/2 tsp chili flakes
1/2 tsp oregano
salt to taste
Ingredients for Red Sauce
1 Chopped onion
4 Chopped tomatoes
4 to 5 garlic
3 red chili
Salt
1 tsp cream (malai)
1 tsp ketchup
2 tsp oil
1/2 tsp red chili powder
1/2 tsp chili flakes
1/2 tsp basil
1/2 tsp pepper powder
1/2 tsp garlic powder
Ingredients for Sauteed vegetable:
1/2 cup Chopped onion
1/2 cup Chopped Capsicum
1/4 cup bell pepper
salt to taste
1/2 tsp chili flakes
1/2 tsp black pepper
1/2 tsp dry basil
1/2 tsp garlic powder
1 tsp oil
Cheese
Basil Leaves
Method for Red Sauce
In a pan heat oil. Add garlic, onion, tomatoes, red chili, and Salt.
Saute for 5 min. Let it cool down. Add cream (malai) and grind it.
Sieve it well transfer the puree to a heated pan. Then add ketchup, chili powder, chili flakes, dry basil, pepper powder, garlic powder and salt.
Red Sauce is prepared
Method for White Sauce
Place a pan on low heat add butter and flour, stir well to remove the lumps
Then add milk, black pepper powder, chili flakes, oregano, and salt.
Cook with constant stirring until the sauce becomes thick.
Preparation of Lasagne
In a pan heat oil. add garlic, onion, Capsicum, and bell peppers on medium flame.
Then add salt, chili flakes, black pepper, dry basil. Cook for 3-4min.
Place a layer of Cornitos Nachos in a bowl, Spread the red and white sauce.
Add sauted vegetables and cheese. Repeat the process till 3-4 layers.
On the top add nachos chips, red and white sauce, and cheese. Now bake in preheated oven at 180° for 5 to 7min.
Garnish it with a basil leaf. Serve Hot
Recipe : Cornitos Nachos Lasagne
Reviewed by
Newzpot
on
February 09, 2023
Rating: