In our modern, fast-paced world, time is a valuable commodity. With many tasks and limited time, the quest for convenience is ever-present. That's where phone watches come into action! Also known as smartwatches, these innovative devices have gained tremendous popularity in recent years, and it's not without justification.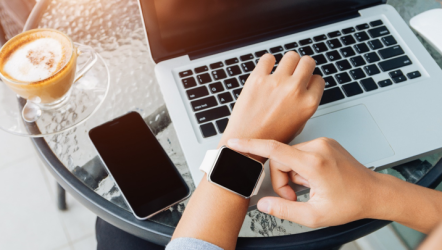 ShutterstockBlending style and functionality, phone watches

have revolutionised our lives, offering features prioritising convenience, connectivity, organisation, and even our health and fitness aspirations. These wearable gadgets transcend the conventional concept of timekeeping, evolving into powerful companions that cater to diverse needs.
Equipped with GPS tracking, heart rate monitoring, message notifications, and voice control capabilities, phone watches seamlessly integrate into the lives of busy individuals who are constantly on the move, providing instant access to the information that matters most.
Whether you're an avid fitness enthusiast, a dedicated professional, or simply seeking a device that streamlines your daily routine, a smart watch is perfectly tailored to meet your unique requirements. Join us in this article as we explore a selection of phone watches that aim to enhance and simplify your life.
Reflex Play- Smart Watch with Orange Strap
Are you ready to seize control over your time, style, and well-being? Combining fashion and functionality flawlessly, this phone watch features vibrant orange accents and a captivating 1.3-inch AMOLED display bound to catch onlookers' attention. Moreover, their strong yet lightweight silicone straps ensure comfortable daily wear.
This phone watch is not only fashion-forward but also built to withstand the most demanding challenges. With an impressive IP68 rating, it effortlessly conquers sweat, water, and dust, making it the ideal companion for everyday activities and vigorous training sessions. Its versatility shines through, complementing your professional attire or favourite casual ensembles.
But that's not all – this phone watch goes beyond style by incorporating advanced health-tracking functions. Women can monitor their menstrual cycles, gaining valuable insights into their health and wellness.
Reflex Vox 2.0
This indispensable phone watch will revolutionise your approach to health and well-being. Featuring Bluetooth calling capabilities, this watch is a true game-changer in fitness. Its optical heart rate sensor enables real-time heart rate monitoring during intense gym sessions and tracking your SPO2 levels for a well-rounded, healthier lifestyle.
Stay connected and in control with the accompanying app, providing easy access to comprehensive reports with vital information about your fitness progress. The watch boasts a sleek and elegant design, with a detachable watch band for personalised style. Bid farewell to unnecessary stress as this watch allows you to conveniently check your emails and calendar appointments without constantly reaching for your phone.
Reflex Play Plus- Smart Watch with Blue Strap
Elevate your style and stay seamlessly connected with the world around you by embracing the wonders of this remarkable round-dial phone watch! Designed to exceed expectations, this watch boasts an impressive array of features that include step tracking, distance monitoring, and calorie counting, enabling you to effortlessly stay on top of your daily activity levels. It boasts a remarkable water resistance of up to 30 meters. With a battery life of up to 10 days, you can confidently wear it daily without worrying about frequent charging. It's the quintessential accessory for the tech-savvy individual, ensuring you're always one step ahead.
The rise of phone watches has brought about a remarkable transformation in our daily lives. As technology advances astonishingly, these devices are poised to become even more deeply integrated into our routines. With cutting-edge features like phone payments and smart home control on the horizon, phone watches are rapidly evolving into indispensable tools for simplifying and streamlining our lives.
If you're seeking a gadget that effortlessly tracks and enhances your daily routine, look no further than smart phone watches. With a wide range of available options, you will find a smartwatch that perfectly aligns with your needs and budget. Explore the extensive collection of phone watches on Fastrack's website, where you'll discover a diverse range of models catering to high-end and budget-friendly preferences.
Don't hesitate to seize the opportunity to make your life easier and more efficient with phone watches!
3 Phone Watches to Ease Your Life
Reviewed by
Newzpot
on
June 14, 2023
Rating: