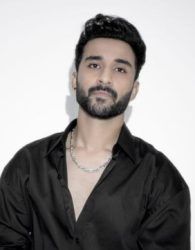 After their maiden collaboration in "Gyarah Gyarah," talented actor Raghav Juyal is gearing up for his second venture with renowned producer Guneet Monga in the much-anticipated action thriller titled "Kill." The film is already creating a buzz in the industry, with its promise of high-octane action sequences and riveting storytelling.
"Kill," a joint venture between Guneet Monga's Sikhya Entertainment and Karan Johar's Dharma Productions, is set to deliver an adrenaline-pumping experience for audiences. The film, directed by the accomplished Nikhil Nagesh Bhat, features a dynamic ensemble cast led by Lakshya and Raghav Juyal.
Raghav Juyal's association with Guneet Monga and his choice to be part of "Kill" signifies the actor's commitment to diverse and challenging roles. Their prior collaboration is "Gyarah Gyarah" which is set to release in November.
As the project gains momentum post it's incredibly intriguing announcement, Raghav Juyal expresses his enthusiasm for reuniting with Guneet Monga, stating, "Working with Guneet Ma'am is always a rewarding experience. The script of 'Kill' is incredibly engaging, and I am excited to collaborate with this talented team once again. I'm so so excited to be doing projects in different and varied genres. If you would have asked me a few years back that I will be here in this spot, I wouldn't have really imagined. But with a project like Kill, I'm so excited that it is certain to bring a new definition of action films to Indian cinema, something we haven't seen before. Guneet is a visionary and Karan sir is the definition of backing films that have become phenomenal successes and to work with this duo is exhilarating".
With Kill, Raghav is on track to keep his acting career growing with growing beyond comedy to working with some of the biggest producers and filmmakers.
Actor Raghav Juyal Set to reunite with Guneet Monga for the action-packed thriller "Kill"
Reviewed by
Newzpot
on
August 23, 2023
Rating: