Lotus Petal Foundation's career-readiness program Jeevika Skill Development Program Honors 100+ Accomplished Graduates at Convocation, 50 urban youth bag job s
McDonald's India is a top recruiter alongwith leading brands Megamax Heloise Tech Solution, Dmart, FNS Solution etc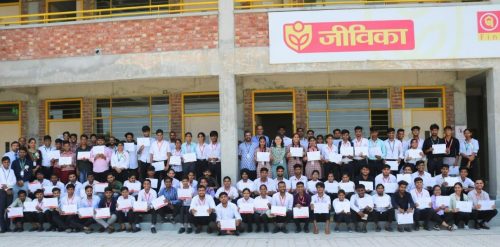 Gurgaon, 23nd Aug 2023 - Gurgaon - based, Lotus Petal Foundation has an unwavering focus on equipping young individuals with essential skills for their professional journeys. Through its specialized programs, the foundation imparts career-ready abilities that leave a meaningful imprint on people's lives. Recently, a noteworthy event marked the recognition and accomplishment of 100+ urban youth hailing from Delhi, Gurgaon, and neighbouring areas. These individuals successfully completed the inaugural session of the foundation's flagship career-preparedness initiative known as the Jeevika Skill Development Program. Notably, the Gurgaon campus's Jeevika section is thoughtfully designed to accommodate training for a concurrent cohort of up to 4000 students. The courses are certified by the National Skill Development Corporation (NSDC) and are available at subsidized costs for students from low-income families with free transportation facilities also available to and fro from the Dhunela campus via bus.
The students who completed different vocational training courses in Hardware & Networking, Hospitality, Retail, and Digital Marketing were awarded certificates at the event held at their campus in Dhunela (Gurgaon). The highlight of the event was the announcement of placements for almost 50+ graduate youth in leading corporates like McDonald's India, Megamax Heloise Tech Solution, Dmart, FNS Solution etc. This achievement reflects the quality of training provided by Jeevika and the relevance of the skills imparted to the demands of the job market.
National Curriculum Framework draft of 2023 which has recognised the importance of early career guidance. The NCERT has integrated career guidance and readiness into the high school system. With nearly 65 percent of youth of the country in the working age group, Government of India is committed to equipping the workforce with employable skills and knowledge in mission mode. In a bid to improve and streamline the skilling ecosystem of the country, Lotus Petal Foundation at its Dhunela campus is welcoming the country's youth for their multiple 6-month courses & efficiently placing them on a path of skilling & making them employable in numerous industry roles.
The convocation ceremony brought together students, their families, staff, local dignitaries, and industry partners. The event featured inspiring speeches, a presentation of certificates, and heartwarming success stories that showcased the transformation of students from learners to professionals.
The event marked a significant milestone in the student's lives as they were recognized for their hard work, dedication, and the valuable skills they acquired during their training. Chief guest Amitav Virmani, graced the occasion by lighting the lamp along with Founder Kushal Chakravorty, Co-Founder Saloni Bhardwaj and Jeevika Skill Development Program Manager, Ravinder Kumar.
"We are immensely proud of our graduates who have successfully completed their vocational courses. This convocation marks the culmination of their journey with us and the beginning of their promising careers. Our mission at Jeevika has always been to empower individuals through education and training. What had started from 22 students, has grown to 250 students, within a few months. With a focus on holistic growth, our students receive extensive theoretical and practical training that has led them in finding employment as well as opening the doors for higher education. The success of our graduating batch has filled our hearts with a sense of pride and confidence that now our students are ready to take on the world and live a life with dignity and equal opportunities without any fear or inhibitions", shared Mr. Kushal Chakravorty, Founder, Lotus Petal Foundation.
22-year-old Rahul Saini from Gurgaon completed the Hardware and Networking course at Jeevika and received placement at Megamax. He shared, "Getting placed at MegaMax has provided a significant boost to the beginning of my career journey. I am filled with enthusiasm and joy as I embark on this new chapter". Another alumni Mamta who got placed as Cashier at Mcdonald's after completing the Retail Sales & Management course at Jeevika shared, "Attaining employment at McDonald's at this stage of my life has bestowed upon me a sense of financial freedom. As a result, I am now capable of contributing to my family's finances".
In the past, Sahin Mulla, an alumnus of Lotus Petal Foundation having completed Grade 12th with a skilling certification from the Jeevika program, is a stellar example of what Jeevika stands for and wishes to imbibe in its students. The son of a security guard and domestic help, Sahin enrolled in the Business Correspondence course of the Jeevika program in 2018. Fast forward to 2023, Sahin is working at Lenskart as a Fashion Consultant and earns Rs. 25,000 per month. His is a success story as a 12th pass getting into a job contrast with the fact that over 75% of the country's graduates are unemployed as they lack skills. Lotus Petal Foundation has thus created many success stories in the last 10 years with its alumni who are employed in white-collar jobs or pursuing higher professional education.
Lotus Petal Foundation's career-readiness program Jeevika Skill Development Program Honors 100+ Accomplished Graduates at Convocation, 50 urban youth bag job s
Reviewed by
Newzpot
on
August 23, 2023
Rating: