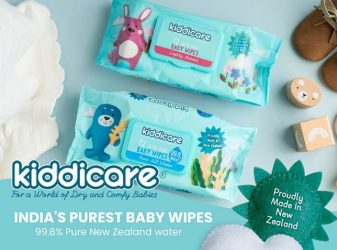 Kiddicare, a distinguished name in infant care, is thrilled to announce its grand entrance into the dynamic Indian market as the best premium active kids baby wipes brand. Famed for producing the world's purest baby wipes, Kiddicare is set to redefine infant care in India.
Kiddicare takes pride in being a brand that represents purity, quality, and efficacy. This ethos is exemplified in our Kiddicare wipes range, which offers unmatched softness, strength, and durability. Importantly, these wipes are not just trusted but are also remarkably affordable, making them the best wipes in India and accessible to families across the country.
A defining characteristic of Kiddicare wipes is their ability to combat the causes of nappy rash, a common concern among parents. Meticulously crafted to be gentle and soothing, they are suitable for sensitive, newborn, and premature baby skin. With ingredients sourced from pure New Zealand water, alongside leaf extract and Vitamin E, Kiddicare wipes provide natural care and protection.
What sets Kiddicare apart is that these premium wipes are manufactured in New Zealand, adhering to the highest-grade quality standards, and then imported into India. This ensures that Indian parents have access to the best wipes in India, known for their utmost quality and purity.
Kiddicare is not limited by age; it's safe for newborn babies and beyond, catering to the active cleanup needs of children at every stage of growth. It's a brand that embodies fun, loaded with 3x softness and 5x stronger and thicker material, ensuring both effectiveness and enjoyment in every wipe.
Tapasya Sharma, Global Digital & Marketing Head at Zeta Group -Kiddicare, highlights, "Kiddicare is more than just a brand; it's a promise of quality and care for parents and their precious little ones. We firmly believe that Kiddicare is the perfect choice for Indian families, offering the best wipes in India and we are confident that our products will be loved just as much here as they are worldwide."
Kiddicare's journey began in 2012, marked by an unwavering quest to create the perfect baby wipes. Years of hard work, rigorous testing, and scientific research have led to the birth of Kiddicare wipes. These wipes are designed to be pure and gentle on the most delicate skin while maintaining the convenience of a baby wipe. They strike the optimal balance between its ability to clean, softness, comfort, and price.
Headquartered in New Zealand, a country celebrated for its pristine natural beauty, Kiddicare combines the best of natural ingredients with cutting-edge technology and innovation to create wipes that are not only the best wipes in India but also gentle on your baby's skin.
As Kiddicare makes its grand entrance into India, parents across the country are discovering the undeniable benefits of Kiddicare wipes for their baby's skin. We invite Indian families to experience the best premium active kids baby wipes that promise purity, fun, and exceptional care.
For media inquiries, product samples, or more information, please contact:
support@kiddicare.co.in
About Kiddicare:
Kiddicare is a global leader in infant care, dedicated to providing parents with the purest, safest, and most effective products for their little ones. With a legacy of innovation dating back to 2012, Kiddicare is trusted by parents worldwide and is now available in India. Learn more about Kiddicare and its products at https://www.kiddicare.co.in/
Kiddicare: Introducing India to the Premium Active Kids Baby Wipes Brand
Reviewed by
Newzpot
on
September 06, 2023
Rating: