Leading EV Retrofit Company GoGoA1 to raise Pre Series A funds to Fuel Expansion Plans for Green Mobility
Launch of "Affordable EV Retrofit kit for 50 models of 2-wheelers for popular brands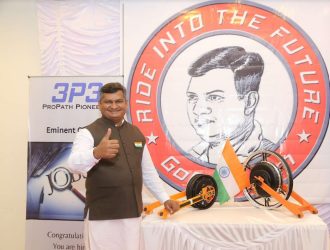 Mumbai 1st September 2023 - GoGoA1, a trailblazing electric vehicle (EV) retrofit major, is excited to announce its upcoming Pre-Series A funding round to raise $1 million USD to accelerate its expansion and growth in the electric mobility market. As the world is preparing for a future dominated by sustainable transportation, GoGoA1 being a bootstrapped start-up till date, now aims to meet the rising demand for EV retrofitting services and further solidify its position as a leader in the industry. With a mission to drive the transition to clean energy and reduce carbon emissions as per the Government of India's initiative to have 70% EV transport, GoGoA1 has already transformed numerous traditional petrol and diesel ICE vehicles into eco-friendly electric variants. The company also announced its new "Affordable EV Retrofit kit for 50 popular two-wheeler models which include 45+ models from popular brands like Hero Honda, Hero and Honda and 5 variants of Honda Activa.
Through its state-of-the-art technologies and unwavering commitment to innovation, the company has garnered widespread recognition for its contribution to a greener and more sustainable future. GoGoA1 has RTO and ARAI approvals for retrofit kits for over 40+ models of Hero Honda, Hero Motors and Honda which is a first for any retrofit company. The company also has over 50 patented designs of kits and their components which gives a broad overview of the growth and vision for the coming future.
GoGoA1 seeks to raise funds and investments to secure additional funding from investors and venture capitalists who share GoGoA1's vision of a cleaner, more environmentally friendly world. The funds raised will be instrumental in supporting the company's strategic expansion plans, including Establishing New Retrofitting Centers in which GoGoA1 plans to set up new retrofitting centers in key locations to cater to the growing demand for EV conversions. These centers will offer seamless and efficient conversion services to a wider range of customers, including individual vehicle owners and commercial fleet operators.
The funds will also help in Enhancing Research and Development. The company aims to pioneer new technologies and solutions, making the EV retrofitting process more accessible, efficient, and cost-effective. Also, GoGoA1 plans on Strengthening Marketing and Outreach to raise awareness about the benefits of EV retrofitting and showcasing its success stories. The goal is to encourage more individuals and businesses to make the switch to electric mobility.
"We are thrilled to embark on this journey to raise funds as it represents a pivotal moment in GoGoA1's expedition towards a more sustainable future," said Mr. Shrikant Shinde CEO and Founder GoGoA1. "With the support of our investors, we can make electric vehicle retrofitting accessible to a broader audience, further accelerating the global shift to clean energy transportation. We will be able to reach out to the Bharat market which will enable us to provide EV retrofit solutions to interiors of the country. "
GoGoA1's groundbreaking approach to EV retrofitting has already earned accolades from customers and industry experts alike. The upcoming fundraising campaign is set to fuel the company's growth and solidify its position as an industry leader. GoGoA1 has been empanelled by the Delhi State Government to be part of the retrofitting mission to convert 15year old and above ICE vehicles into EV
Leading EV Retrofit Company GoGoA1 to raise Pre Series A funds to Fuel Expansion Plans for Green Mobility
Reviewed by
Newzpot
on
September 01, 2023
Rating: