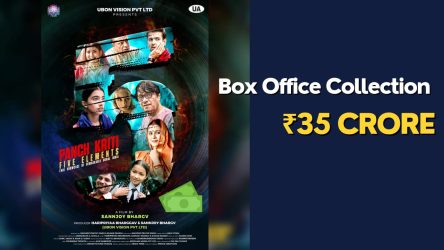 Panch Kriti Five Elements, the highly anticipated 2023 Indian Hindi-language drama film, has taken the Box Office by storm in its inaugural week. Released on the 25th of August across 11 states in India, the film has amassed a phenomenal Box Office collection of *Rs 35 Crores* during its first week, cementing its status as a cinematic triumph.
Written and directed by the talented Sannjoy Bhargv, Panch Kriti Five Elements is produced by Haripriyaa Bharggav and Sannjoy Bhargv under the esteemed banner of Ubon Vision Pvt Ltd. The film boasts an ensemble cast featuring renowned actors such as Brijendra Kala, Umesh Bajpai, Sagar Wahi, Purva Parag, Mahi Soni, and Ravi Chauhan.
Panch Kriti Five Elements is a masterpiece that weaves together five captivating and interconnected stories, all set in the enchanting town of Chanderi. Each story, while standing alone as a unique narrative, is ingeniously intertwined by a common thread, providing audiences with a thought-provoking and mystifying cinematic experience.
This remarkable Box Office success is a testament to the film's compelling storytelling, outstanding performances, and its ability to resonate with a diverse audience. Furthermore, it showcases the immense talent and creativity of the team behind Panch Kriti Five Elements.
With a Box Office collection of *Rs 35 Crores* in its first week, Panch Kriti Five Elements has not only surpassed expectations but also demonstrated the potential of the Indian film industry to produce content that resonates with viewers on a profound level.
Panch Kriti Soars to Box Office Success in Its First Week
Reviewed by
Newzpot
on
September 05, 2023
Rating: