Embark on a culinary extravaganza at the comfort of your residence or work place: Foodlink Presents China Bistro and Art of Dum in Gurgaon and Belapur, Navi Mumbai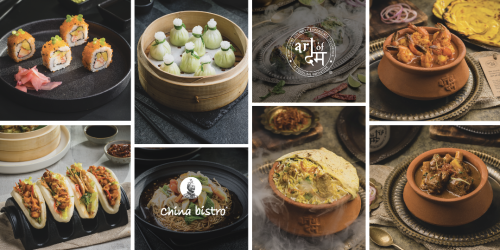 Gurgaon & Mumbai, 17th June: Foodlink, a renowned Mumbai-based culinary enterprise, is set to tantalize taste buds with the launch of its exclusive cloud kitchens, China Bistro and Art of Dum, in Gurgaon and Belapur, Navi Mumbai.
Building upon their success and culinary expertise, Foodlink is expanding its presence in Gurgaon and has ambitious plans to venture into Delhi areas such as Saket, Vasant Vihar, Greater Kailash to name a few . It also aims at tapping various cities which adapt the cloud kitchen culture and like dining at the ease of their homes or offices. This expansion aims to bring Foodlink's exquisite flavours to an ever-growing audience.
Sanjay Vazirani, CEO of Foodlink F&B Holdings Pvt Ltd, expressed his enthusiasm, stating, " Gurgaon, Delhi and Mumbai boast a vibrant food culture and are at the busiest cities of India. China Bistro and Art of Dum have received a warm welcome in various cities across India and the Middle East. Now, we aspire to elevate the dine-at-home experience for Gurgaon and Navi Mumbai residents, in their comfort zone. I am confident that the discerning individuals in these bustling cities will savour our delectable offerings, ensuring resounding success. We envision expanding to numerous other locations in the coming months."
For the Asian cuisine lovers, China Bistro has been captivating the locals for the past decade in Mumbai, Bangalore, Hyderabad, Dubai and Sharjah, with its delightful grubs. China Bistro is now set to elevate the dine-at-home experience with its newest outlet in Gurgaon and Navi Mumbai. China Bistro, a revered name among Asian cuisine lovers, including unforgettable highlights from their selection of mouth-watering bestsellers.
With the luxury of Nawabi and the authentic taste of Dum Pukht style of cooking, Foodlink's award winning cloud kitchen, Art of Dum will offer its appetizing Biryanis and Kebabs. For the ones who prefer to savour at the comfort of their homes, they can order the food cooked with passion from Swiggy, Zomato, or directly through the website.
To relish a luxurious dining experience in the comfort of their own homes, patrons can conveniently order from Foodlink's cloud kitchens via popular food delivery platforms such as Swiggy and Zomato or directly through the website. Experience the epitome of culinary excellence as Foodlink transports you on a gastronomic journey through China Bistro and Art of Dum.
Embark on a culinary extravaganza at the comfort of your residence or work place: Foodlink Presents China Bistro and Art of Dum in Gurgaon and Belapur, Navi Mumbai
Reviewed by
Newzpot
on
June 17, 2023
Rating: