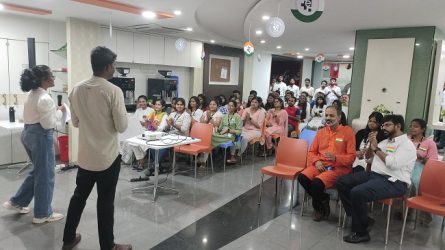 On the joyous occasion of India's 77th Independence Day, eClinical Solutions proudly celebrated the spirit of freedom and its role as a trailblazing force in shaping the future of big data solutions and services in the modern era, contributing to 'Digital India'.
The excitement among the employees filled the air as Independence Day approached. The main atrium was adorned with tri-colour decorations, creating a festive atmosphere. As the workday began, the teams dove into their projects while also participating in a range of engaging activities organized by different internal clubs of eClinical Solutions - the drama club, music club, and activities like skits, quizzes, group dance, and musical performances. There is also an ongoing table tennis tournament organized by the internal sports club to promote national integration. The employees also enjoyed a special lunch menu served at the cafeteria, reflecting the country's culture on this special day.
Mr. Chandra Koduru, VP and Head of India Operations at eClinical Solutions, expressed his enthusiasm about the celebration, saying, "Independence Day is a time for us to reflect on our nation's progress and celebrate the values that bind us together. This celebration was a token of our appreciation for their hard work and dedication. It was exciting to come together, showcasing our unity in diversity, and making lasting memories."
The event also provided a platform for employees to unwind, enjoy, and strengthen the sense of community within the company. As a forward-thinking organization, eClinical Solutions believes in nurturing an environment that values individuality while fostering a collaborative spirit. The event was a memorable occasion and not only celebrated India's independence but also underscored the team's close-knit nature and commitment to contributing positively to society.
eClinical Solutions Celebrates Indian Independence Day
Reviewed by
Newzpot
on
August 15, 2023
Rating: